Buyers Comments

This Page has been added for people who purchase bengal kittens from us to leave a little comment about Summerspride Bengals for other people who may or may not purchase a kitten from us :-) have a little read , Thank You .
Comment from Sinclair and Sharon who have Faith from Dream and George March 2019
Hello Julie
We're very happy with our new kitten from Summerspride Bengals as well as the care provided for her. She has lovely markings, is full of energy, loves to investigate as well as gets on great with our other bengal. Already they make a great pair together and we look forwards to spending many years ahead in the future with her. Regards Sinclair and Sharon
Comment from Joan who has Ludo from Snow Kisses March 2019
Hi Julie
For various reasons, I had thought long and hard about getting another Bengal kitten and contacted Julie at the end of summer 2018 regarding concerns and availability. Not only was Julie expecting kittens within a few weeks but she was moving to Scotland within a few months. Serendipity. From the time Ludo (a silver charcoal boy) was born, up to and beyond picking him up, Julie has been in constant contact supplying videos and photos - and always happy to answer questions and reassure me. I have had Ludo for just over 2 months now - he is a constant delight and a typical high energy, naughty Bengal but very clever. He has settled in extremely well with my other 2 cats (Burmese and Abyssinian) - so well in fact that it seems he has always been here. He has a superb temperament and is very friendly with everyone who visits - and is very much admired. All that is testament to the care, committment and attention that Julie has given to her breeding lines and the hard work she has put in to raise healthy, happy and sociable kittens.

I cannot fault the love and attention that Julie gives to all her kittens, cats and new owners both before and after 'handover' day. Would highly recommend.

Joan
Comment from Gary Campbell who has one of Kisses bengal babies :-) November 2018
I purchased this gorgeous silver charcoal Bengal boy from Julie and Andy of Summerspride Bengals on 11/11/18. From the first time of speaking to Julie I could just tell how passionate she was about breeding Bengal cats and just how much she really cared about the type of people where her babies would be homed. I just felt this lady is the person where I should by my Storm from. From that conversation until now Julie and Andy are always on hand any time of the day or night anything that you need to know you can just call. I was given regular weekly updates, videos and photos so I always knew how he was doing. Once Storm was purchased that's when Summerspride Bengals come into their own, their after care service is second to none, it actually feels like they're right there with you making the settling in period effortless. Its now over a week and I'm still in contact with Julie on a regular basis as she really likes to know that her babies are ok, and also us the parents are ok as well. Storm has settled in without any problems, he is such a well bred full pedigree kitten, so loving and affectionate and that is all down to Summerspride Bengals care and attention to detail. Storm now has a big sister Nyah who even though they have only known each other a week or so they're getting on like they have always lived together, so Summerspride Bengals kittens are well socialised and very beautiful, in due time myself and Hayley will definitely buy another one or two ????but I would urge anyone looking to purchase a kitten please choose Summerspride Bengals they're the best choice. Thank you to Julie and Andy for everything, from Gary, Hayley, Nyah and Storm ????????
Comment from Niki and Mark who have four babies from us :-)
Hi Julie
Our Family is now complete !!!
I first met Julie and Andy when I enquired about the possibilities of owning a Bengal Baby bread by Summerspride Bengals and was lucky enough to have a Stunning Snow Charcoal called Indie and a perfect brown spotted / rosette Bengal called Rahni come and join our family both of whom have adorable temperaments and are maturing into stunning adults ( they will be 2, February of next year). In the last 12 weeks our family has been made complete with the addition of Loki a black smoke Bengal and Mini, Summmerspride first Silver Charcoal girl. Both of whom have settled in amazingly and despite there being 6 weeks or so between their arrival they are now inseparable.
I cannot thank Julie and Andy enough not only for always being there for advice and on going support when needed as we are new to the world of Bengals, Mark and I are honoured to be intrusted with the care of such stunning, beautiful, special little souls, who all have temperaments to die for. They are all so loving and a constant source of entertainment with there antics that they get up to together as they enjoy each others company.
Lots of Love Always
Niki, Mark xxx
Comment from Janis and Edward who have six bengal babies from us March 2018
Two and a half years ago we decide that we'd like a Bengal kitten. After much searching, we found Summerspride and Julie, who is an exceptionally dedicated breeder. Our first Bengal babies were Cloud, an amazing Silver Snow boy, and Willow, a very beautiful Brown Girl. We fell head over heels in love with them and built a lovely friendship with Julie.
A year later we brought our Silver boy Loki home and then a few months later, Dove who is a Silver Snow girl. Cloud, Willow, Loki and Dove are all totally adorable – beautiful Bengals with amazing personalities, which is all due to Julie's expertise and the sheer amount of time she puts in with all of her cats and kittens.
We thought at the time that we'd stick with four Bengal babies, but after chatting we thought we might like two more…. Yes, we're addicted!
The two babies we wanted were a Silver Girl from Ariel and Sambuca and a Melanistic Baby from Kisses and Sambuca – this was before any pregnancies were confirmed, just our wish list! Then incredibly, Ariel and Kisses were both expecting babies and even more incredibly, Ariel had a Silver girl and Kisses had a Melanistic boy – exactly the babies we had dreamed about! We can't thank Julie enough for sharing their births with us, emailing as each baby was born and sending photos and videos right from the very beginning - such a special privilege.
So, we have now added Echo and Oz to our Bengal family. Echo is the most beautifully marked Silver girl with such a pretty face that she makes our hearts melt. Oz is a Melanistic Silver Smoke boy with stunning shaded markings and an INCREDIBLE personality. Both babies are confident, trusting, playful, friendly and totally adorable – they are a real testament to Julie's dedication and the hours she and Andy put into all the Summerspride cats and kittens.
If you are looking for a Bengal kitten get in touch with Julie at Summerspride and then you'll begin to understand why we now have six!
Love from Janis, Edward, Cloud, Willow, Loki, Dove, Echo and Oz xxxxxxxx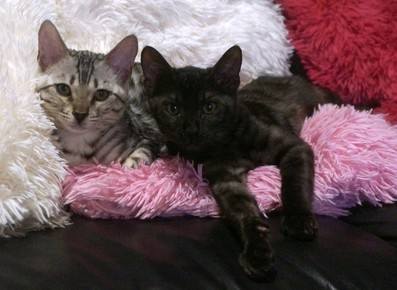 Comment from Addy and Jack who have Ariel and her snow baby Atlas Feb 2018
To Julie 
 " We have two absolutely stunning cats from Julie; Ariel and her son Atlas. 
They are both so sweet and gentle and have a very close bond - 
not to mention how amazing they are just to look at. 
Julie was extremely helpful and informative throughout the process - 
she could not have done more for us. She clearly has an amazing passion for all of her cats 
and it really shows through in Summerspride kittens. 
We have fallen totally in love with them after just two weeks! Thank you so much Julie for our babies :) "

 
 Best,
 
 Addy and Jack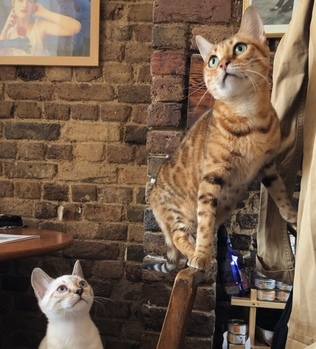 | | |
| --- | --- |
| | |
| | |
| Commet from Vicky who has Spartacus from Ariel & Sambuca 2018 | |
Hi Julie
As promised here's my testimony.....
When I decided to get another Bengal kitten it had to be the right kitten from the right breeder as I already had a 6 month old Bengal. After doing our research I contacted Julie at Summerspride. We had a long thorough chat on the phone (I think she was interviewing me to make sure I was suitable to be a mummy to one of her babies!!).
Julie was easy to chat to and her knowledge and love of Bengals very obvious. I got the green light from Julie that I had passed and could purchase one of her kittens.
As I live on the Isle of Wight I couldn't travel to see the kittens, so after photos and videos I decided on a beautiful silver boy ????.
We have had Spartacus a week now and he's settled fabulously into our family and loves his big brother. Handover of Spartacus was brilliant and I could fault Julie in her experienced and professional attitude. Julie has been a constant support and always there to offer helpful tips and advice.
I highly recommend Julie and Summerspride to anyone like looking for a Bengal kitten. Thank you Julie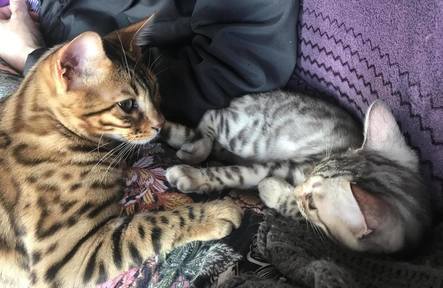 Comment from Jenna and Ben who have Loki and Nelson from Ariel & Sambuca Feb 2018
We have had a great experience with Summerspride Bengal. Julie has raised amazing kittens who are now settling well into our home. We knew that they were very well cared for every step of the way. As first time kitten owners Julie has also helped us to get everything ready for them and has been there to answer any questions we have had.
Thank you so much Julie. We love the kittens and really appreciate everything you put into raising such beautiful animals.
Jenna and Ben
Thanks again Julie

Sent from my iPhone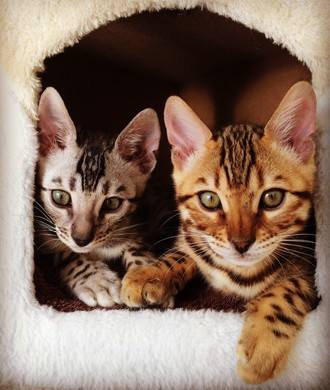 Nelson & Loki in their new home :-)
Comment from Simon and Claire Nov 2017 who have Amber from Kabuci andSnowball
Julie

Feel free to the use following testimonial..

*************
When we decided to look for a new addition to the family we spent
several weeks researching different Bengal Breeders to find the
perfect kitten. We settled on Summerspride and Julie because of the
way she raises her kittens. Julie is clearly but passionate and
knowledgeable about the Bengal breed and puts in so much personal time
and effort in ensuring her Kittens are always well socialised, used to
being handled and used to other pets.

All of this love and attention shows in our beautiful Amber, she is a
wonderful kitten who runs us ragged but also loves to just sit and
cuddle whilst you watch TV or 'try' to read a book. We couldn't of
hoped for a better tempered Bengal to add to our little family. Id
definately point anyone wanting that special Bengal to Summerspride
and Julie.


******************

PS Amber says : "HG299999999998QWAVC`F1Q - ~"""2"

:-)

Simon, Claire and the boys
but not Jasper, hes being grumpy
Comment from Kim and Matthew who have Nici from Kabuci and Snowball
Nico is settling really well and is already fully at ease and one with the family. He's such a lovely boy. Kubuci should be proud.
Comment from Jan Henry who has two boys from Kisses and Sambuca August 2017
I have now had my Bengals, Wilf & Boo, for a week now and I have truly enjoyed every moment. They are both individual personalities but so glad I got my brothers because they are obviously devoted to each other and I think this has helped for such a smooth transition.
I cannot thank Julie enough not only for being such a professional, responsible breeder but also for the peace of mind you get with issues you are unsure about. Julie is there for you and if, you are like me, baby-stepped me through the whole process with patience and kindness.
would definitely advocate Summerspride Bengals to anyone interested in investing in Bengals and to those who are genuinely committed to the demands Bengals require. If you have the committment you cannot get a better kitten!
Thank you Julie x
Comment from Janis and Edward June 2017
My full name is Summerspride Dawn Rose, but everyone calls me Dove. I lived the first part of my life with my human mummy Julie and my cat mummy Dream. There were lots of other cats there – Auntie Ariel, my big sister Angelica, my sister Pepper, and Ariel and Angelica's babies. It was lovely to have so many cats and kittens to play with and to have Julie looking after us all, but there comes a time when kittens need to move on and spread the Bengal love to new families :) Eventually all the other kittens went off to their new homes and I was the last one left.
Then it was my turn. My new mummy and daddy, Janis and Edward came to collect me and take me home with them. It was strange at first, but after a couple of days I met the rest of my new family here. They are Cloud, Willow and Loki who are my half brothers and sister – all of us have the same amazing daddy, Sambuca. I love my new family lots and they love me too <3
Julie taught me all the things I needed to know and did all the things that needed doing to make sure I was ready to go to my new home. Thank you so much Mummy Julie xx
Mummy Janis and Daddy Edward think that I am beautiful and adorable just like Cloud, Willow and Loki :) We're all Summerspride Bengals though, so of course we are! :D
Lots of love
Dove xxxx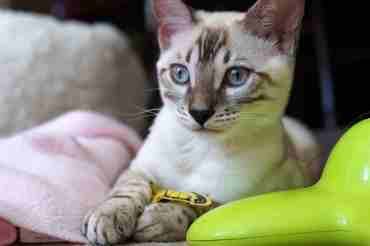 Comment from Amanda and Nick
Evening! Finally got round to sending you this for your comments page on your website.
I decided to purchase a Bengal after my gorgeous 17 year old moggie sadly passed away, I thoroughly researched the breed and breeders, finally deciding that I wanted a cat from Summerspride Bengals. The love Julie has for her cats really comes across on her website, she isn't a breeder who is only interested in the money. I visited her house after alot of email communication and was really excited to meet her recent litter of kittens. Unfortunately all of the kittens had already been reserved but that didn't stop me falling in love with all of them, especially a certain two!! I also fell in love with one of Julie's other cats, Mr Diesel,who was just over a year old. I left the cattery telling Julie I would be interested in having Diesel and then a couple of kittens from another litter due later in the year. We kept in touch over the following weeks, Julie is such a kind, loving person, she genuinely has her cats and kittens welfare first and foremost in her mind, She puts many, many hours into caring for all of the cats and kittens, her whole life is 100% dedicated to them. All of them are her fur babies. I'm so pleased to say that Diesel came to live with us in March, he is such a gorgeous cat, loving and full of personality. I did have slight reservations that a Bengal would be a bit of a handful as I had read alot of articles about them, good and bad, and I had only ever owned moggies, but Diesel has fitted in so well with the family, he is so laid back and a pleasure to have around, I fell in love immediately! Then a few weeks later I also welcomed two of the kittens into our family! Julie puts so much time and love into the kittens it really shows in their personalities, my kittens have settled into our home so easily, Diesel accepted them quickly as well. Julie gives them an amazing start in life, they are cheeky, amusing, mischievous but above all very loving, I'm over the moon that I decided on Summerspride Bengals, I love my three little furry bundles of fun with all my heart and, if I could, would have many more (so would my 11 year old son) but my husband won't let me! :-(. Thank you Julie for allowing three of your beautiful fur babies to come into our family, they will be loved forever!
Love from Amanda, Nick, Joshua
Diesel, Chewy & Willow xx
Comment from Leanne and Mark who have four of our bengal boys :-) June 2017
Would just like to say that we have been very lucky with our Bengal Breeder Julie from Summerspride Bengals. Her beautiful girls and handsome boys always produce the most gorgeous babies. As an absolutely besotted bengal mummy, we have had four so far from Julie. If we weren't totally happy with our babies we wouldn't have gone on to have more. We had our first baby a Silver Snow (Harry) followed by a Charcoal Snow (George) the year after, then following after that a brown rosetted (Teddy) and as we thought, lastly another Silver Snow gorgeous Arfur. But we haven't stopped because this wonderful breeder has finally been able to produce her first Melanistic babies. So any surprise, we have another bundle arriving in 2 mths. Henry will join the other four Bengals and four moggies. We are a completely cat mad, bengal mad couple and love every bit of their individual characters and temperments. Our beautiful boys, from our beautiful friend and breeder Julie XxxWould just like to say that we have been very lucky with our Bengal Breeder Julie from Summerspride Bengals. Her beautiful girls and handsome boys always produce the most gorgeous babies. As an absolutely besotted bengal mummy, we have had four so far from Julie. If we weren't totally happy with our babies we wouldn't have gone on to have more. We had our first baby a Silver Snow (Harry) followed by a Charcoal Snow (George) the year after, then following after that a brown rosetted (Teddy) and as we thought, lastly another Silver Snow gorgeous Arfur. But we haven't stopped because this wonderful breeder has finally been able to produce her first Melanistic babies. So any surprise, we have another bundle arriving in 2 mths. Henry will join the other four Bengals and four moggies. We are a completely cat mad, bengal mad couple and love every bit of their individual characters and temperments. Our beautiful boys, from our beautiful friend and breeder Julie Xxx
all our love Harry, George,Teddy ,Arfur & moggies Oscar, Quinn, and Wall.e.
Comment from Jennifer and Simon who have Khamsin from Ariel and Sambuca June 2017
Hi Julie,

We are lucky and very proud to be the owners of a beautiful Summerspride baby Bengal boy. Summerspride Leopard Tanzanite or Khamsin as he is affectionately known is an absolute delight to own. He has a fantastic temperament and loves his cuddles and play and spends most of his time purring away like a tractor engine. He is also a very confident and well grounded which enabled him to settle well with my two silver girls quite quickly. This is all testament to the love and care that Julie puts into her Bengal babies which is second to none. I would recommend Julie, Andy and Summerspride Bengals to anyone who is looking to purchase a special Bengal baby. We cannot thank them enough for allowing us to have our very special Khamsin whom we love dearly.

Jennifer and Simon Allen

Sent from my iPad
Comment from Anna and Raj June 2017
Dear Julie,
Thank you so much for my baby Pepper!
My second baby from you has settled in so well and is such a beautiful happy girl.
I love the fact that I know lots about her ,that she was your biggest kitten and all about her being born in your car, I feel that I have known her right from the start.
Both Luka and Pepper are so lovely and a credit to you.
Love Anna & Raj x
Comment from Anna & Raj Nov 2016
Dear Julie,
Thank you for our beautiful Luka.
He's settled in so well thanks no doubt, to the care he received from you in his early days.
He loves his brothers and sisters so much and is enjoying playing with them.
We love him so much!
Anna and Raj x
Comment from Kerry and Stu Nov 2016
Hi Julie
Some photos for you...
Also for your comments page below:


Thank you to Julie for bringing a lot of joy to our lives...our two bengal boys are beautiful and don't know what we would do without them now. Julie gave a very professional service and she really cares about her cats. Her dedication to the kittens she looks after from day 1 is really admirable. Thank you so much.
Kerry & Stu xx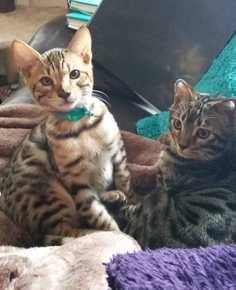 Milo & Thor
Comment from Leanne and Mark Nov 2016
We have known Julie now since 2014 when we were lucky
enough to pick our Harry, by Sambuca and Ariel, he is Snowballs
brother. He was such a cute baby & after doing our research and
visiting the babies we were hooked. We have since become mum & dad
in 2015, to Harry's half-brother George, by Sambuca & Dream. Then
this year, 2016 we are mum & dad again to our gorgeous Teddy, by
Snowball and Snowkisses, Harry & George's nephew. They are all
adorable babies, they stick together like glue, although get on very
well with the other 3 moggies. Our bengal babies are very sociable and
want to be with us at all times, they are very nosey. We have noticed
having bengals & moggies how different the two breeds are. The
bengals showing much more of a wild side not only in looks but in
character as well. They are always busy in the day, only calming down at
night when we all sit down. They are all loved very much and very
spoilt. They have a large outside cat run which is joined to the house,
so they have the freedom to come and go as they please. All our cats are
safe and we wouldn't have it any other way. Bengals should not be
allowed outside to roam free from home, as their temperament, nosiness
and sheer curiosity would not do them any favours. Julie and Andy at
Summerspride Bengals with no doubt raise beautiful babies, with the most
loving qualities. Looking forward to our next bengal :-)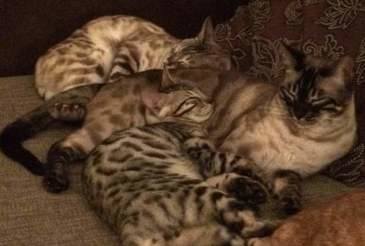 Comment from Janis & Edward November 2016
Just over a year ago Cloud and Willow, two beautiful Summerspride Bengal babies, joined us. They are absolutely adorable and have given us so much fun and pleasure since they arrived, so we decided to add another little Summerspride baby to our household. We particularly wanted a silver Bengal this time and, on the day that he was born, Julie said that we could reserve Loki. From that day onwards, Julie sent photos and videos of Loki as he was growing into the beautiful kitten he is now.
We were a little anxious about introducing a new kitten to Cloud and Willow, but Julie gave us lots of advice and when we collected Loki, we felt confident that we could make it work. It took just over two weeks of following that advice (which wasn't easy at the time!) but now thanks to Julie's help and encouragement, we have three beautiful, happy Bengals.
We have no doubts at all about recommending Summerspride Bengals. Julie and Andy make us feel so welcome when we visit and their kittens are such amazing little characters – we wouldn't think of going elsewhere. In all probability we'll be back for one more Bengal baby soon!
Janis, Edward, Cloud, Willow and Loki xx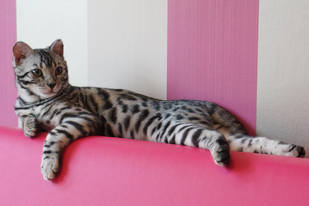 Comment from Nicola May 2016
Julie
"I would definately recomend and will be returning to Summerspride Bengals in the future. Having spent a lot of time researching Bengal breeders I am now the proud owner of two bueatiful Bengal babies. The communications from the time they were born and the continued support is oustanding, futhermore I am pleased to say the kittens are settling well into their new home and are a credit to Summerspride Bengals and the socialisation they recieve prior to going to their forever homes".
N Downing, 7 May 2016.
Comment from Emma who has Bailey and Woodford from Ariel & Sambuca May 2016
For your comments page:


ulie at Summerspride is completely committed to the kittens she
breeds. She is very knowledgable and always on hand to offer advice or
give support. Our 2 boys are the most beautiful and sociable kittens,
both with amazing temperaments. The time and effort
that Julie puts into these kittens definitely shows. I would recommend
Julie as a breeder to anyone.

Emma
Sent from my iPhone
Comment from Carli and family who have Lily & Sambuca's silver boys 22.03.2016
Hi Julie,

I wanted to write you a special message to thank you personally for coming into my life and blessing me with my darling boys Coal and Ice! They have already settled fantastically and become a part of our family unit and both adored by Scott myself and the children! ( as you know I had a very personal void for many years that I'll always hold close in my heart) but we are now ready for a bran new adventure together.

You have been there from day one, keeping me updated with how the boys are doing, growing etc and I couldn't have asked for more and nothing is too much trouble, you are there to give advice, chat and as a result we have now built the start of what will continue for many years to come a wonderful friendship!

I can not wait to experience my 1st show with Coal by your side representing Summerspride proud as punch :-) you are such a large part of why the boys are who they are and we will keep you in their lives without question.

You put soooo much into your beautiful cats and well they are the prof to demonstrate this also and I would highly recommend you to any body who wants and are lucky enough to welcome a Bengal into their family.

I look forward to watching my cheeky boys grow and become stunning male cats just like their daddy.

Take care and thank you again.
Carli and family xx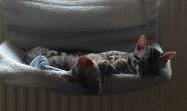 Comment from Janis & Edward who have two of Ariels babies October 2015
What can we say that hasn't been said before? We are now the proud owners/parents/servants to two amazing Bengal kittens, Cloud and Willow. Once we found Summerspride, the decision was made – these were the kittens we wanted – loved, cared for, given masses of time and attention, healthy, confident, lively bundles of fun – and of course, extremely beautiful. Thank you so much Julie, for letting us bring them home, for all the time you and your family spent with them while they were growing and for all the excellent advice.
Cloud and Willow have only been part of our household for just over a week and are very settled already. They follow us around constantly and today 'helped' with the housework! Life will never be the same again – it's so much more fun now :)
Thank you again <3
Janis, Edward, Cloud and Willow
Comment from Sue & Andy who have two kittens from Ariel & Dream
October 2015
Hi Julie,

It has been just over a week now since we bought our boys Kinshi & Ren home. They have changed so much every day growing in confidence. They are bright and alert, wanting to explore every inch of the house. The boys are so different in personality but they both have the confidence that comes from all of the work that you have put in over the first 13 weeks of their lives. The process of you picking us to love and look after the boys has been a great experience. We have enjoyed getting to know you and appreciate all the hard work you put into Summerspride Bengals. Thank you for all the help and advice which has made it so easy getting them settled into a new home. We appreciate that you are always available if we need to ask any questions. I would 100% recommend you to anyone wanting a top quality Bengal.

Love from us all

Kinshi & Ren xx
Sue, Andy, Felicia, Ollie xxxx
Comment from Nikki & Martin who have Ariels little silver snow girl :-)
Dear Julie,
I just wanted to say a very big thank you for our beautiful little Snow girl Fern. I can't put into words how happy she has made both Martin and I. She has settled in so well and is such a confident loving calm playful gorgeous little princess which I'm sure is down to all your hard work.
As you know on the 1st June we lost our beautiful Snowshoe boy Hugo to lymphoma aged only three years old. We were both devastated and totally lost without him.
Looking on the internet six weeks later I came across Summerspride and thought how kind and caring Julie sounded with the most wonderful Bengals. I fell in love with Summer and couldn't believe my luck when Julie told me she had a baby Snow girl available just two weeks old.
Every week I received pictures and sometimes videos of Fern growing up. I really looked forward to these and weekly updates on Julie's blog. This helped so much with me bonding with Fern.
Julie has a wealth of knowledge on Bengals I could listen for hours she is so helpful.
When we picked Fern up everything went so smoothly. Paperwork already in folders and kitten pack even containing a sample of used litter to pop in her litter tray when we arrived home. No stone was left unturned.
Julie you are a wonderful breeder and lovely person. Please keep breeding these happy kitties and making owners like us soooo happy.
With our love Nikki Martin and Fern. Xxx
Sent from my iPad
Comment from Paul and Lynn who have one of Lily and Romeo's babies :-)
Hi Julie and Andy,
 
We couldn't see where to add comments to your website so we thought we'd drop you a line to put on yourselves.
 
Thank you so much for letting us have Dexter (Summerspride Rajah) in our lives. He's such a loving, 
confident and talkative cat and he's so full of energy. 
 
Thank you so much for going the extra mile with Dexter right from the first call that we made enquiring about 
your kittens. You have shown boundless dedication and have gone way beyond what we'd ever have expected from 
a breeder. Wow...what about the fantastic kitten pack! A beautifully presented folder of documents 
(bound by a lovely wood heart with 'Dexter' on it) plus all the fantastic extras! Incredible!
 
I can honestly say that anybody thinking about sharing their lives with a Bengal or Bengals should definitely 
make Summerspride their first call. Everything that your website says about love and care coming first is 
absolutely spot on.
 
Cheers,
 
Paul and Lynn

Comment from Leesa who has Bagheera from Lily & Romeo's 3rd litter together July 2014
Hi Julie, I hope you are well? Apologies I have not sent this through to you sooner but as I said over text message I wanted to send you a comment for your website that would really do you justice... Julie, as you know, I lost my baby Simba very traumatically and you were there to empathise and also to advise me on the best Bengal boy for myself and the sister Simba left behind; Kaana. You understood that Bagheera would never replace Simba, but that he would help to fill some of the void that had been left. We also shared some of our grief and sadness as shortly after I lost Simba, you also lost your baby Tigger. Despite your own grief, you were still there to advise and show empathy. You are a very genuine, caring and compassionate person which is the best type of person to be breeding any type of animal, especially Bengals. You show such attention to detail when looking after both your kittens and their new owners; you really do think of everything from preparing your kittening room when you are awaiting the arrival of the little Bengal babies to preparing their belongings to send them on to their new forever homes to providing support once they have left. I am a big believer in fate and I am convinced that I found your website for a reason. I, like you, am a perfectionist and I admire your meticulousness and the fact that you like to be prepared for every possible need that your kittens may have. You never cut corners and give all your babies the best possible start in life. Bagheera is now over seven months old and settled in straight away. He is a very dominant character, which Kaana puts up with to a degree until he over-steps the mark (they are like your average married couple already!). His character and instincts are very similar to Simba and because of this I am so glad I chose a Bengal and even more glad that I chose one of YOUR Bengals. At this stage I still know that if I ever needed anything for either Bagheera, or Kaana for that matter, you would be on hand to support in anyway you could. You are a wealth of knowledge when it comes to your babies and I trust your opinion completely. Thank you from the bottom of my heart, Leesa :-) xxx
Comment from Hamad who has Summerspride African Breeze (Freya) August 2015
Dear Julie,
'I bought a silver Bengal from summerspridebengals and couldn't be happier with the girl I got from them. The whole process was smooth and easy. I was able to see her and the environment she was raised in before getting her. They are clearly raised with love and attention and as such when I got her to my home she was able to adjust to me and her new surroundings quickly. Julie is a lovely person that made sure I had all the information and equipment I need before bringing my kitten home. If you're looking for a Bengal kitten I'd highly recommend Summerspridebengals.'
Regards,
Hamad
Comment from Phil & Iria who have two of Lily's girls September 2015
We picked up a couple of kittens from Julie and they've now been with us for a couple of weeks or so. They're doing superbly well and the work that Julie does when they're smaller to socialise them and get them used to being handled, playing with them etc has made their integration into the house really easy.
We're first time owners really so had concerns about how well they'd settle in, whether there'd be any issues with the litter or eating and drinking etc but Julie's handling and advice has mean there have been zero issues, the girls have just slotted in to our lives and are just wonderful additions.
I have no hesitation in recommending Julie or Summerspride if you're looking to add some wonderfully socialised kittens into your lives!
Phil
Comment from Hayley 26.11.10

To Julie and Andy

From my heart; thank you so so much for all you stand for as breeders! the time and effort you spent with me and getting
storm and rocky ready to come to my home! The cats come from such a loving enviroment with beautiful temperments
and as a credit to you, all who have met storm and rocky have adored them! even my cat fearing friend! = ) !

i will highly recommend you! as i found you a breeder with the heart and not money making motives! the cats best interests
at all times are priority with you! and it gives makes me feel very lucky that i found you and my cats! money can't buy your passion for the cats!

so a big thank you! from Hayley, Storm & Rocky xxxxxxxxxxxxxxxxxxxxxxxxxxxxxxxxxxxxxxxxxxxxxxxxxxxxxxxxxxxxxxxxxxxxxxxxxxxxxxxxxxxxxxxxxxxxxxxxxxxxxxxxxxxxx
Comment from Anette, Iain & Hugo
 
Dearest Julie,
 
By magic one of your babies - Too Funky - ended "up" with us - and though 
he has only been with us for 5 magnificent day - we are so happy...
 
Our first Bengal is not to crazy about him YET but she is very interested 
in him.. As are we. 
The way you 2 Summerspriders have brought him up - the love, care and 
knowledge and time you put in to your cats and kittens are above and beyond
 anything we have seen anywhere before. Thank you so much; we hope you will
 continue to make little families like ours happy. On this eve of 
Thanksgiving - where at one time6 adults and 1 child were adoring your 
little kitten playing - we send you all our thanks and admiration.
 
Hugo, Iain and Anette
 
Otto's Girl and Too funky oscar..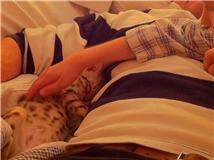 Too Funky Oscar in his new home  :-)
Comment from Laura, Adam & Kearney & Libby 31.05.2011
To Julie, Andy, and all at Summerspride,
Wow its been little over two weeks since we brought our little girls home Narla and Miley, its been just amazing they are truley little love bugs.
They have grown in so many ways since the first day we met around March the 12th, with March the 13th the day Julie and Andy
gave us the good news as to their decsision on letting us be the proud parents of two baby bengals.
I know this is not a decision you take lightly as you are so dedicated to your baby bengals from the moment they are born with only
the first grade care. This is definatly evident when first meeting you, thankyou so much for making us feel so welcome with all the
advice and guidance, as to what items we needed, what foods, what to expect you left no stone unturned and even making daily calls
to make sure we were all settleing in ok. " Thank You "
This has been a real adventure from the start and your advice and guidance has given us the perfect start to our new family and from the
moment Miley and Narla came home we knew we had made the best possible choice. Now the adventure really begins and knowing you
are only a telephone call should the situation arise gives us great comfort.
You are more than welcome to pop over to see Miley and Narla in their new home it would be great to catch up.
Thank you once again from the bottom of our hearts
Laura, Adam, Kearney and Libby
---
Comment from Hayley & her mum Karen who have four of our beautiful bengals :-)
| | |
| --- | --- |
| From: | MCDERMOTT HAYLEY |
| Sent: | 28 November 2010 13:32:47 |
| To: | |
To Julie and Andy,
I just wanted to say a big thank you for everything you have done for us. I was lucky enough to find you while searching for the right bengal baby,
and ended up with two! Autumn Breeze and Poppy. This was yours and Summer's very first litter, and you should feel so proud of yourselves.
They have been the most amazing babies right from the word go. Both love their kisses and cuddles, Autumn is the biggest cuddlebug ever!!
I have a very special bond with Poppy which is just amazing. You have been there for me all this time and it still continues to this day.
When i came to visit to meet Storm and Romeo's litter together, it was love at first sight when i saw Cherish- Tiger Lily, she is stunning, she is so
little and cute, but with a real big personality. Then when we came again, my mum ended up taking home Amadeus - Leo, you've helped her alot
and been so understanding.
So now we have four amazing bengals from you! I was abit nervous about the introducing part but you helped so much with very good advise,
and actually, it was much easier as Cherish and Amadeus just LOVED Autumn and Poppy when they met, they are so fearless and would just rub
around them so it was hard for the eldest 2 to not learn to love them, this is very much down to you letting them be around all your own bengals and
cats and it made it a whole lot easier.
So thank you for always being there for us.
Hayley x
Comment from Emma & Keith 04.12.10
After recently having a very rough time, we decided that we wanted to adopt a Bengal kitten.
We researched lots of websites for a long time & after making a decision we decided to e-mail you.
Well after several e-mails pinging back & fourth, I called you & boy am I happy that we did!!!
We come to see Freddy (It's a kind of magic) & fell instantly in love with him, he certainly was
a big boy at 13 & half weeks, we were to pick him up a week later, you sent us e-mails the week
commencing when we were due to collect him, on his progress.
I have never met someone who is so passionate & loving towards the up keeping of the kittens
before they are re-homed. The love that you give, certainly reflects Freddy's personality.
We got Freddy home & we had to introduce him to his new sister Belle from another breeder.
You had told me it would be hard, but you was there for us 24/7, phone calls e-mails & finally
after 7 days they are the best of friends, sleep, playing & eating together.
Keith & I would just like to say that we are soooooo grateful for everything you have done for us
& if I was allowed I would definitely want to adopt Romeo & Tiffany's litter!!! Maybe next time!!
Anyway who is thinking about homing a kitten from you, would be mad not to, he has
We can't thank you enough, I look forward to you coming down in a few months time
Comment from Anita, Steve & James 7.01.2012
Dear Julie and Andy at Summerspride,
 
I would like to thank you sooooo much for letting two playful, lively, mischievous, fun, curious, cheeky,
 beautiful Bengals come home with us!
It was amazing to find someone who cared about something other than the money they made! This experience has
 been absolutely great and I would really recommend it to anyone I meet.
I can't put into words how amazing it has been.
Everyone who comes round sees the two kittens and immediately says, "Oh my god! They.. they're stunning! Never 
seen markings like it!" and I couldn't agree more.
My dog is especially fascinated. It's like all of our Christmases came at once!
Lilac is cuddling me as I write this email!
Our Tonkinese are safe to say, for the moment, not interested but the dog absolutely loves them. They sleep nestled
 up together on the same bed. So sweet.
They were frightened of the TV and the kettle at first. They ran into the living room and under the sofa! They are
 fine now. Sit on the sofa while it's on!
It didn't take them long to become confident with the house. Shows how much work you put into them while they were very,
 very small!
If (when) I get another Bengal, I will come to you first!
 
All our best wishes,
 
James, Anita, Steve, Lilac, Eden, Charlie, Danny and George.
Comment from Diane & Ollie 7.01.2012
Julie and Andy
 
Just wanted to let you both know how much we appreciate all you both have done for our new addition :) 
He has settled in so well to our household and we have you to thank for that. 
We really couldn't ask for a kitten with a better temperament and character. 
 
The first time we came to see what Summerspride were about we knew instantly that you guys were the ones
 we wanted to get our baby from :) you really can't put a price on all the time and love you put into
 every cat/kitten you have. We can't imagine going anywhere else to buy a Bengal - we already want another :)
 
Really can't begin to tell you how grateful we are! 
 
Thanks again
 
Diane and Ollie xxxx
Ganghas with his new mummy in his new home :-)
Comment from Joanna & Pat 08.01.2012
Hello Julie and Andy
Just wanted to say thank you so much for our cute little bundle of fun! She has settled in well with her new little brother
and it is such a joy to see them eating,playing and sleeping together.
Thank you for all the support and advice you have given us. It has helped our new babies to settle in well and given us the
confidence to look after them well, (we really appreciated being shown how to give worming tablets and trim claws.
Lily has the most amazing markings and temprement and has already brought us many hours of joy. We are looking forward to the
years we have to enjoy with her and her new brother.
Thank you so much for giving us such a beautiful baby and all you help and support.
Joanna, Pat, Alex, Max and Harley
Comment from Darren 26.09.2012
Julie
"Summerspridebengals is so more than your normal Bengal breeder.
They offer excellent advice and support both before and after you collect your little bundles of joy.
Julie prides herself in producing quality kittens and it really shows from the moment you step into her home. "
Darren Thompson
Comment from Emma & Darren 26.09.2012
Hi Julie

I wanted to tell you that we feel truly blessed to have little Sammy and Lilah, they were your first silver babies and we are so grateful to you for choosing us to be their mummy and daddy! We love them so much, watching them growing up and gaining in confidence is just the best thing ever. We have so much to look forward to, teaching them to walk on harnesses and taking them outside for walks! Sammy is just so full of kisses and cuddles, when you pick him up he just relaxes into your arms, and little Lilah is the prettiest thing ever, she loves to sit on my lap and stretch out. The only thing they hate is the dustpan and brush, they try to attack it as soon as it comes out of the cupboard, its the funniest thing.

Getting two kittens together was fantastic as they interact with each other and with us and watching them grooming each other and cuddling up together at the end of a play session is magical.

Julie, I really wanted to say thank you from the bottom of my heart for the amazing help and support you have given me when Sammy and Lilah had upset tummies, I was so worried and you were there for reassurance and advice, calls, emails, texts, whatever I needed. You really went over and above the call of duty. You have done so much to help us settle and adjust and I don't think I could ever thank you enough! The welcome pack and tips and advice have been invaluable plus your patience with my endless questions.

I also wanted to tell you that the vet, who sees kittens all day long, make a special comment to us about how stunning the kittens were, but more importantly what fantastic health they were in.

As you can tell from my constant updates on Instagram, I am totally in love (as is Darren) with our new babies and we are frantically trying to capture their development and progress and not miss any of the cute and funny things they do.

Its my pleasure to keep you updated on their progress and I will continue to send you pictures (lots, like I did yesterday!) as I know you still care so much about them.

Once again thank you so much, and please give Mummy Lily and Daddy Romeo a kiss from Sammy and Lilah.

Love,

Emma and Darren xx

Comment from Kerryann who has Summerspride Tiger Lily

October 2013

Hi julie

Here are some pic's for u.

If you want to use any of my comments from previous emails to add to your website please do. Or/and use this if you like

Thank you for letting us have such an awesome little girl. She is so loving. With such a cheeky personality.

You have done such a great job breeding and raising your kittens. All of your help and advice has been excellent.

Im so pleased we came to you to buy Tilly. It is so nice to know our baby had such a good start to life . And was so well looked after and cared for before we found her.

I Cannot imagine life without her now xxxx
Comment from Anette & Iain & Hugo 09.12.2011
From: avfergusson
Date: Fri, 9 Dec 2011 10:47:15 +0000
To:

[email protected]



Dearest Julie and Andy,
Thank you for letting us have 2 more of your fantastic kittens!
We now have a (too?) full, happy Bengal house. 4 Bengals to 3 humans might sound crazy but somehow your magical animals
always manage to expand our capacity for joy and love. How I wish our oldest Bengal was a Summmerspride Bengal
(She is from one of the most famous UK breeders and is an angry, dysfunctional lady.
Julie, you give your "babies" the best start to life; so much love, care and nurture that they cannot but help to grow up to
be happy, clever, loving and funny members of ones family. If a "real family-member"-cat is what your adoptive families are
looking for,tell them to stop looking.
We are blessed with 3 (Oscar, Emmy and Louis-Ferdinand) and every minute with them is a gift.
Wish your cats could make our house - and not only our hearts - grow, as it would be Fabulous to have a kitten from your
new silver bengal.... What a beauty!
Yours gratefully,
Otto's Girl, Oscar, Emmy and Louis Ferdinand
Hugo, Iain and Anette Fergusson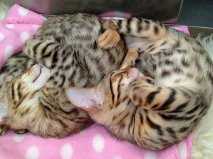 Emmy & Louis in their new home together :-)
Comment from Ursula 14.12.2011
Hi Julie
I have so much fun since Raffles arrived to share my home with my elderly cats Sacha, a 16 year old Bengal and Bonnie. He settled in so well ,all due,
I am sure to the care he received from you giving so much time and love to the kittens by playing with them and socialising them ready for their new homes.
And it is giving Sacha a new lease of life trying to keep up with his young companion
Raffles is the most adorable and loving kitten I could have hoped for, a real lap cat and I am looking forward to years of joy with him.
So thank you for all your hard work and regular contact whilst awaiting Raffles arrival and afterwards to assist me with settling him in with my other cats.
I would most certainly highly recommend Summerspride as the best breeder if someone is thinking of getting a Bengal kitten. Well done Summerspridebengals.
Ursula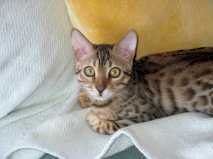 Raffles in his new home :-)
Comment fro Ellie & Trevor 27.12.2011
Hi Julie
I keep forgetting to write a little bit about Chloe for your web site...... Hope this is ok....
I have been following Summerspride Bengal's since the gorgeous Summer had her very first litter. I always thought what a brilliant breeder Julie seemed
and how she really cared about the kittens and put so much time and effort into making sure they had the best start in life.
Then I decided to get another Bengal to be company for my boy Solomon. I knew straight away who I was going to speak to.... The rest is history.
Chloe came to live with us and has changed our lives. She is a gorgeous healthy Bengal with a beautiful temperament along with boundless energy.
We have had her for coming up to 1 month now and I could not imagine life without her.She has settled in well and her and Sol are becoming the best of friends.
Thank you to Julie and Andy for all your support. I feel that not only have I gained a beautiful Bengal girl but have gained a friend in Julie who had been there for me
100% and I know will continue to support me with her expertise and kindness xx

PS... I meant every word xx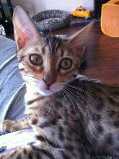 Chloe in her new home :-) xx
Comment from Natalie and Lyle and Ellie 21.11.10
Hi Julie,

I just want to say a huge Thank you to you and Andy for letting these two beautiful babies into our lives,
we have had the loveliest time with them over the last few days. I'm so pleased because they have settled in so well in just these few days,
Bella will not let me leave the room what-so-ever, she will beat me to the door and try coming with me,
she will sit and cry the whole time i am out the room.
Paris loves the climbing tree she will climb right to the top and sleep there for an hour or so then she will be wide awake
going mad all over the scratching posts, lol. It is the best thing i've done since giving birth to my daughter getting these
two little angels. At this moment they are talking to each other and chasing each other up the stairs lol.
Have got some wonderful pictures that i will send to you. Bella loves the keyboard, lol.
As you said on your site "Beautiful healthy Bengals with amazing temperments"
its so true they are sooooo wonderful, dont know how i could ever thank you.

All our love from Natalie, Lyle and Ellie

Big kiss from Bella and Paris

xoxoxoxoxoxoxoxoxoxoxoxoxox